Bringing Adventure To Your Office!
Proud member of the


Whether you're looking for an effective team building and leadership training experience or a hassle-free day to relax and enjoy the outdoors with your co-workers, Absolute Adventures has the program for you!
Custom-tailored corporate adventures to perfectly coincide with your organization's interests, goals, and budget.
Leave all the work to our experienced staff - just show up and enjoy yourself!
Here for a convention? Let the Bay Area adventure experts show you Northern California like you've never seen it before!
Three distinctive event lines to meet your each and every need!
--Team-Building Line--
--Pure Adventure Line--
--Entertainment Line--
--Rates--
--Join Our Mailing List--
---
Absolute Adventures Team-Building Line
Effective teamwork is certainly the most important element in successful and productive companies. Participating in one of our unique team-building events will surely increase company morale which leads to an increase in employee productivity ... as well as in the bottom line! By looking through our site, you've taken the first step towards planning a fun and rewarding day for your employees that will leave each and every participant better equipped to work together back in the office.
The following events have been specifically designed to allow co-workers to start to better understand one another's strengths and weaknesses and to develop a more efficient and productive team. The skills practiced throughout such an event will certainly carry over to the workplace, but everyone will be having such a great time they won't realize they're actually learning!

Geoteaming (Golden Gate Park, San Francisco)
Four or more "Geoteams" go on a high-tech treasure hunt in a location near you. Each team is given GPS units that are pre-programmed with vital coordinates of the goals, called geocaches. Utilizing the GPS units and team skills, each team collaborates to find caches, which take the form of hidden boxes or team challenges. The excitement builds as the teams race to the finish in this urban adventure that each and every employee is sure to remember for years to come!
Combine the power of technology with outdoor adventure.
Unleash the human potential of teams and leaders.
Work on relevant business principles: multitasking, budgeting, meeting deadlines, team bonding.
Experience the challenge and excitement of this high tech urban adventure!
Gain long lasting results in employee productivity and company morale.

Absolute Adventures has partnered with Dale Carnegie to bring you the maximum business value for your investment. Dale Carnegie has been in the business of building great organizations since 1912. Our focus on rapidly improving the performance of individuals results in immediately applicable business skills that have a direct impact on the bottom line. Combine Geoteaming, or any of our team-building adventures, with this customized training and you are sure to get the maximum return on your investment. Find out what thousands of businesses world-wide have found; an investment in your people is an investment in your business.

Race The Bay - Learn to Sail and Race for Bragging Rights! (San Francisco, Berkeley, Santa Cruz)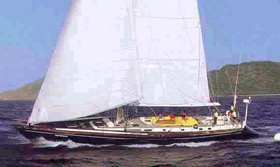 Imagine taking your valued employees out for an unforgettable afternoon of excitement on the Bay. We start by dividing your group into teams, each with its own name such as Shark, Wahoo, or Marlin. You'll then sail a thrilling race course throughout the Bay.
Enjoy incredible views while competing with co-workers.
Half day and full day trips available with an optional stop at Angel Island for a group lunch.
Great way to reward a job well done as well as build team cohesiveness.

Kart Teaming-Indoor Kart Racing...with a TWIST (Fremont)


Feeling the need for speed? This unique adventure combines the excitement of high-speed kart-racing with the productive aspects of team building! Participants will be challenged with an individual goal, a team goal, as well as an organization-wide goal. The competition will be fierce but in order to ultimately succeed, collaboration will be necessary.
Race at speeds of up to 40 mph around the quarter-mile track.
Fast and furious action… but all in good fun!
The only go-karting adventure of its kind.
**A valid drivers license is required for this event.

Culinary Team-Building (Numerous Bay Area Locations)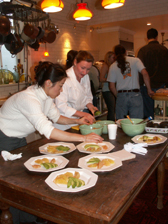 Let learning about food and wine become a dynamic exercise in teamwork! As your group prepares a delicious meal, you'll work on common goals, sharing responsibility, and appreciating individual skills. By cooperating in a busy kitchen, you'll need open communication and participative leadership - developing important skills to bring back to the office with you while having a great time!
Custom-tailored events are structured around your group's objectives.
Can be held at a location of your choice or at one of a variety of locations throughout the Bay Area.
Pair this event with any of our outdoor adventures and receive 10% off!

Golf TEEmbuilding (San Francisco)


Let the golf course be your classroom as your team experiences this incredible workplace learning program in an inspiring environment! The event will be delivered by world-class corporate trainers with special expertise in golf. It is highly-facilitated and will fuel great discussion about how your "real" team functions and how change can enhance performance in the future. It's a fun AND productive day out of the office!



Enjoy a 9-hole golfing experience in beautiful Golden Gate Park in San Francisco.
Characteristics of high performing teams will be highlighted; goal development, role accountability, conflict resolution, and communication.
Conclude the day with an extensive debrief and an awards ceremony!

Team Sailing and Navigation (Sausalito, San Francisco)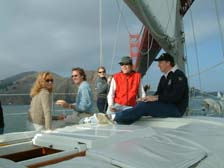 Sailing provides the perfect atmosphere to develop leadership, decision-making, and team communication skills in a fun environment. With your whole group aboard the same vessel, you will then be divided into two teams – the sailors and the navigators. Under the instruction of Coast Guard licensed captains, the navigation team's task will be to direct the sailors to predetermined locations using charts, compass and GPS. Teams will switch roles so everyone will have the chance to sail as well as navigate. Try all the various jobs including Skipper, Tactician, Grinder and more!
Work together to navigate the Bay!
Half day or full day events are available.
Optional stop at Angel Island to enjoy a BBQ lunch.

Improv Experience (Anywhere!)
Take your teams to a new level with a unique approach to team-building! Whether it's a group of individuals who have never met before, or a team that shares the same cubicles every day, this event will unite and inspire the participants to interact more efficiently. Through a unique combination of exercises, drills, and activities, we'll help your group to unleash the energy that makes teamwork a success. Choose from our list of expertly-developed team-building training sessions, or, we can also custom-tailor an event so that you can work on those skills that are most important to your team(s).
Learn creative problem solving, create group trust and communicate more effectively.
Low-stress environment where people can relax and learn together.
This event can be done anywhere - even in your own offices!

Team-Building with a "Spin" (Anywhere!)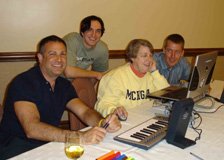 Looking for a new "spin" on teambuilding? Imagine your employees enjoying a fun, interactive experience that they'll never forget--making electronic music together! As they blend rhythms and beats to create their own unique CD, participants sharpen their teamwork skills, exercise their creative muscle, and have a great time doing it.
Participant Benefits Include:
Engagement in out-of-the-box thinking
Experience with the creative group process
Appreciation for how individual contributions lead to group success
Improved communication and teambuilding using a medium that is universal—music
Active support and increased levels of trust within a "hip" entertaining environment
A chance to have fun and laugh with coworkers outside of the workplace

And Much More!
Make sure to ask us about Ropes Courses, Cooking, Archery Challenges, Indoor Rock Climbing, and anything else you might like - we probably do it!
---
Absolute Adventures Pure Adventure Line
Let the office play for a day!

Just want to have a fun and exciting day out with your co-workers? Did your team just land that big account? Are you looking to celebrate together? Just as important as effective teamwork, employee morale and retention are essential if a company is to grow and succeed. And once in a while, everyone needs an adventure - whether to re-jolt their motivation or to simply re-visit their inner child. Everyone's idea of an "adventure" is different… read on to see what catches your eye.


Kayaking to Angel Island (Sausalito)


Treat your employees to fantastic panoramic views from the Bay Area's most secluded getaway! You'll paddle through the majestic San Francisco Bay in your double kayaks while taking in the spectacular views of San Francisco, Mt. Tamalpais, Mt. Diablo and more. Don't forget your camera!

Enjoy a gourmet lunch on the area's most secluded getaway spot!
Hike and explore the island's historic sites and beautiful natural landscape.
No experience necessary - equipment, instruction and guides provided.
Optional ferry ride for non-kayakers.

Moonlight Kayaking (San Francisco, Sausalito)
Join us tonight as we paddle into the sunset. A short introduction will prepare everyone for a leisurely kayak journey along Sausalito's waterfront. We'll float past harbor seals and enjoy the city's eclectic and colorful houseboats with the silhouette of Mt. Tamalpais and the lights of the San Francisco skyline in the distance. This is an experince you don't want to miss!
Ideal on a full moon night but great on any night or any day!
No experience necessary - equipment, instruction and guides provided.
Also available from San Francisco.

Learn to Sail on the San Francisco Bay (San Francisco, Berkeley, Santa Cruz)


What better way to experience the beauty of San Francisco, than from your very own sailboat in the middle of the Bay? After splitting up into groups, you will be paired with a qualified sailing instructor and a crew of five other co-workers. Cruise past Angel Island, under the Bay Bridge, around Alcatraz… take in the San Francisco skyline, relax and enjoy the ride!
Learn to maneuver your very own sailboat from a qualified sailing instructor.
Enjoy the beauty of the San Francisco Bay and get a real feel for the wind in your sails.
Enjoy a group BBQ lunch back on shore and share stories of your "3 hour tour".

Trotting and Tasting: Horseback Riding & Wine Tasting (Saratoga)
Join us for a spectacular horseback riding expedition through the beautiful Cooper-Garrod Vineyards and the rolling hills of the Santa Clara Valley. Each person will be matched with a horse for a one-hour riding tour. Afterwards, we'll visit their tasting room, "The Fruit House", where we'll sample award-winning estate wines while we feast on a gourmet cheese and cracker spread.
An outdoor event that everyone can enjoy.
A truly unique adventure!
No experience necessary.

Angel Island Adventure (Ferry Departs from Tiburon or San Francisco)


We'll explore the historical and visual wonders of the Bay Area's greatest getaway spot. Angel Island, located in the middle of the San Francisco Bay, is a hilly, grass and forest covered island that provides spectacular views of Marin County, San Francisco, and the Golden Gate. The panoramic views make this a photo op you don't want to miss!
Enjoy a relaxing ferry ride to the island, hike to the incredible lookout onto the Bay, try your hand at some volleyball and feast on a great BBQ lunch.
A great event with options for all fitness levels.

White Water Rafting the Middle Fork of the American (Sacramento Area)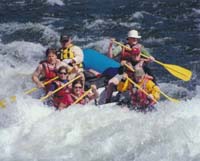 If you and your co-workers are looking for some real adventure, then this is the event for you! Your group will experience some true excitement together and return to the office with tales of adventure and a real sense of camaraderie!
Experience the adventure of a remote wilderness river trip and enjoy the challenge of adrenaline-pumping whitewater rapids.
Spectacular scenery, crystal clear water, excellent fishing, and the possibility of a beautiful hike up to a waterfall.
No experience necessary, good-physical condition required.

Indoor Kart Racing (Fremont)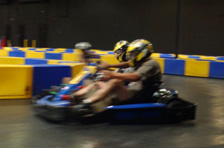 Feeling the need for speed? This adventure promotes good natured competition and is the perfect team oriented event any time of year. Strap on your seatbelt and get ready for some fun - this off-site will leave you and your co-workers revved up and ready for action both in and out of the office!
Race at speeds of up to 40 mph around the quarter-mile track.
Fast and furious action… but all in good fun!
Awards ceremony and post-event meal finish off this incredible day.
**A valid drivers license is required for this event.

And Much More!
Make sure to ask us about our Team Sailing Regatta, Geoteaming, Go-Kart Racing, Sunset Sail on the Bay, and Outdoor/Indoor Rock Climbing. Any adventure is possible, just ask!
---
Absolute Adventures Entertainment Line
See the Bay Area with the Adventure Experts!

This Line is purely for those relaxed occasions where co-workers have the opportunity to celebrate together outside of the office. Whether it's a company anniversary or the completion of a big project, we've got an event just for you. Or, if you're here for a conference, you and your spouses can spend the day seeing the area's sights. Watch the sunset behind the Golden Gate Bridge from a 100-foot schooner, enjoy a BBQ on Angel Island, or tour the wineries of Napa, Sonoma or Santa Cruz.


Sunset Sail on the Bay (Sausalito, San Francisco, Santa Cruz)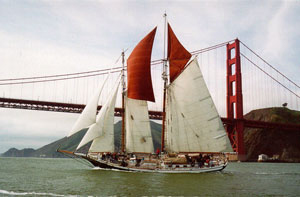 Are you looking for a relaxing way to reward hard-working employees and executives alike? Come aboard one of our favorite sailboats and set out for a sunset sail that will leave you breathless.
Relax the office away as you watch the sun set behind the Golden Gate.
Feast on gourmet appetizers, sip champagne and toast to your company.
Sunset cruises and daytime brunch cruises on a variety of boats are available.

Wine Tasting Tour (Napa, Sonoma, Santa Cruz)


Enjoy a relaxing day visiting the Bay Area's world-famous wine country. Relish in the tradition and history of the vineyards while sampling world-class wines from Napa, Sonoma or Santa Cruz. After years of experience, we've scoped out some great routes including some of the more off-the-beaten-track gems.
Let us do all the work - just sit back and enjoy your day out in the wine country.
Feast on a gourmet picnic lunch and take in the beautiful valley views.
Leave the driving to us!

Improv Comedy (Anywhere!)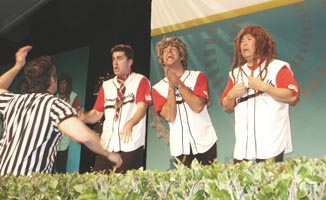 Our Improv Comedy shows are a unique combination of clean and creative comedy in an interactive format where teams of performers improvise an entire show based on your suggestions. Best of all, if you tell us a bit more about your specific group, we can personalize the event for you!
Perfect for anniversary celebrations, award ceremonies, corporate/family reunions.
This event can be done anywhere - we'll come to you!

Alcatraz "Behind the Scenes" Tour (San Francisco)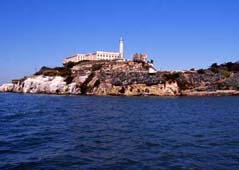 This is a true San Francisco experience! You'll set off on a ferry to Alcatraz Island where you will get a peak into what it was like to be a prisoner in the world's most famous correctional facility.
Enjoy amazing 360-degree views of San Francisco and the Bay in lights.
Partake in a "behind-the-scenes" tour to give you a taste of what usually lies behind closed doors!
Only available during winter months.

Motor Yacht Adventure (Alameda, San Francisco)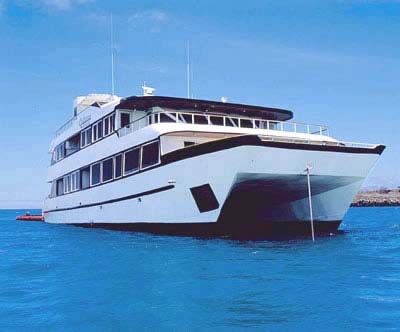 Board a private yacht and cruise the San Francisco Bay - the country's most beautiful waterway! Your 3600 square-foot yacht has two decks, a large outside area, and a spacious dance floor. We call it "The Floating Glass Restaurant of San Francisco Bay" because it, literally, has floor-to-ceiling glass on the dining deck!
Take in the sights: the SF skyline, Alcatraz, Angel Island, the Golden Gate and more.
Enjoy beer, wine, champagne and cocktails in addition to a delicious buffet.

And Much More!
Make sure to ask us about our BBQ on Angel Island, Cooking Class, Murder Mystery Dinner, Muir Woods walking tour, and San Francisco walking/comedy tours. Any excursion is possible, just ask!
---
Absolute Adventures Corporate Adventure Rates:

All of our adventures are custom-tailored to your organization's interests goals and budgets. Rates may vary by date, time, length and other factors. To get pricing for your specific event, please contact our reservation staff at 415-793-4848. We're ready start planning your adventure today!

---
Join Our Mailing List!
---
Absolute Adventures Gift Certificates
Reward your employee with a special gift certificate from Absolute Adventures. They can use them for any of our monthly adventures such as rafting, kayaking, or even a caving weekend! Or you can always buy a membership to our club, great for the new employee who is also new to the Bay Area and looking to meet other outdoor enthusiasts!
To get started on your group's next Absolute Adventure feel free to call us at 415-793-4848. We look forward to creating your next team event with you!