Toll Free:

877-363-TEAM

Tel:

415-505-5964

Fax:

415-462-5148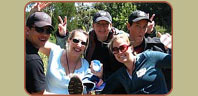 "My department had a ball on our geo-teaming adventure. Everybody enjoyed the competitive and collaborative aspects of the event and couldn't stop talking about it for days."

Stephanie Brunton
-Connetics, Inc.



Team-Building Line



Effective teamwork is certainly the most important element in successful and productive companies. Participating in one of our unique team-building events will surely increase company morale which leads to an increase in employee productivity ... as well as in the bottom line! By looking through our site, you've taken the first step towards planning a fun and rewarding day for your employees that will leave each and every participant better equipped to work together back in the office.

The following events have been specifically designed to allow co-workers to start to better understand one another's strengths and weaknesses and to develop a more efficient and productive team. The skills practiced throughout such an event will certainly carry over to the workplace, but everyone will be having such a great time they won't realize they're actually learning!

Pair any one of our team-building events with a Corporate Development Training Program to really drive home the learning!
---
Geoteaming


San Francisco, San Jose, Berkeley, And many more locations!

Four or more "Geoteams" go on a high-tech treasure hunt in a location near you. Each team is given GPS units that are pre-programmed with vital coordinates of the goals, called geocaches. Utilizing the GPS units and team skills, each team collaborates to find caches, which take the form of hidden boxes or team challenges. The excitement builds as the teams race to the finish in this urban adventure that each and every employee is sure to remember for years to come!


| | |
| --- | --- |
| • | Combine the power of technology with outdoor adventure to unleash the human potential of teams and leaders. |
| • | Work on relevant business principles: multitasking, budgeting, meeting deadlines, team bonding. |
| • | Gain long lasting results in employee productivity and company morale. |
| • | Course Locations: Golden Gate Park, SF; Fisherman's Wharf, SF; Financial District, SF; Downtown San Jose; Santana Row, San Jose; Tilden Park, Berkely; Custom Designed Courses at a lcoation of your choice! |
---
Race The Bay - Learn to Sail and Race for Bragging Rights!


San Francisco, Berkeley, Santa Cruz

Imagine taking your valued employees out for an unforgettable afternoon of excitement on the Bay. We start by dividing your group into teams, each with its own name such as Shark, Wahoo, or Marlin. You'll then sail a thrilling race course throughout the Bay.


| | |
| --- | --- |
| • | Enjoy incredible views while competing with co-workers. |
| • | Half day and full day trips available with an optional stop at Angel Island for a group lunch. |
| • | Great way to reward a job well done as well as build team cohesiveness. |
---
Mind Bending Treasure Hunts


San Francisco, Palo Alto, San Jose, Woodside, Petaluma, Sacramento and many more locations!

Calling all Code Breakers! Think you're pretty smart? Love the challenge of good puzzle or riddle? Well, Absolute Adventures has a mission for your team. In this unique adventure, you and your co-workers will have to work together to solve puzzles, answer riddles, and crack codes. Here is your chance to play sleuth and use your creative side! With your mission kit in hand, and all the tools needed to be successful, you'll race around town, visiting historic markers, beautiful murals and other local hidden treasures in order to solve the mystery presented to you. This event is a great way to get your team out of the office, thinking "outside the box" and learning some important lessons in collaboration, leadership, problem solving - all while having the time of their lives!


| | |
| --- | --- |
| • | Put your heads together and become detectives for the day! |
| • | Pick from existing hunts with different levels of facilitation in locations such as Union Square, South Of Market and Chinatown San Francisco, Downtown Palo Alto, Thomas Fogarty Winery Woodside, Downtown San Jose, Downtown Sacramento, Dowtown Petatluma and many more. |
| • | Custom hunts also available at a location near you. |
---
Green Team-Building

Anywhere!

Green business is smart business. Going green provides bottom line cost savings, a competitive advantage in the marketplace, and also helps keep present and future employees happy and healthy. These events will teach the principles of sustainability in the office and at home while also reinforcing the importance of teamwork and communication. While working collaboratively on green projects, participants will learn valuable lessons about the environment and about each other...all while having FUN!


| | |
| --- | --- |
| • | Green Thumb - learn the basics of organic gardening and make an herb garden for your company! |
| • | Trash Into Treasure - turn recycled items into works of art! |
| • | Green Mixology - learn how to make tasty beverages (both alcoholic and non) from all organic ingredients! |
| • | Botanical Perfumes - create a team fragrance using only plant-based ingredients! |
---
Challenges of the Vine


Numerous Bay Area Locations

Get ready for an extraordinary event of wine exploration, discovery and fun! You and your co- workers will be treated to a tasting of six different wines. An industry wine expert will help you learn to gauge stylistic differences as you discover or re-affirm your own preferences. You and your co-workers will then be divided into teams and challenged to take part in our very own game show style competition. While learning about the different varietals you will engage in blind tasting where each group will put their taste buds to the test. The competition will be all in good fun and laughter will abound. Come with your palate ready for action, as there will be prizes awarded!


| | |
| --- | --- |
| • | A great way to reward a job well done as well as build team cohesiveness. |
| • | This event can be done at a venue of your choice - even at your own offices. |
| • | Pair this event with our culinary team buiding or nicely catered meal! |
---
Culinary Team-Building


Numerous Bay Area Locations

Let learning about food and wine become a dynamic exercise in teamwork! As your group prepares a delicious meal, you'll work on common goals, sharing responsibility, and appreciating individual skills. By cooperating in a busy kitchen, you'll need open communication and participative leadership - developing important skills to bring back to the office with you while having a great time!


| | |
| --- | --- |
| • | Custom-tailored events are structured around your group's objectives. |
| • | Can be held at a location of your choice or at one of a variety of locations throughout the Bay Area. |
| • | Pair this event with any of our outdoor adventures and receive 10% off! |
---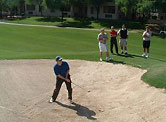 Golf TEEmbuilding


San Francisco

Let the golf course be your classroom as your team experiences this incredible workplace learning program in an inspiring environment! This event infuses team and leadership skills with the golf experience. Whether you're an avid golfer or you've never picked up a club, you'll have a great time working together with your co-workers through a series of challenges, or "holes", that have been designed to highlight specific skills that are essential in any productive workplace.  This facilitated event will fuel great discussion about how your corporate teams function and how change can enhance performance in the future. It's a fun AND productive day out of the office!


| | |
| --- | --- |
| • | Enjoy a golfing experience in beautiful Golden Gate Park in San Francisco. |
| • | Characteristics of high performing teams will be highlighted; goal development, role accountability, conflict resolution, and communication. |
| • | Conclude the day with a debrief and an awards ceremony! |
---
Team Sailing and Navigation


Sausalito, San Francisco

Sailing provides the perfect atmosphere to develop leadership, decision-making, and team communication skills in a fun environment. With your whole group aboard the same vessel, you will then be divided into two teams – the sailors and the navigators. Under the instruction of Coast Guard licensed captains, the navigation team's task will be to direct the sailors to predetermined locations using charts, compass and GPS. Teams will switch roles so everyone will have the chance to sail as well as navigate. Try all the various jobs including Skipper, Tactician, Grinder and more!


| | |
| --- | --- |
| • | Work together to navigate the Bay! |
| • | Half day or full day events are available. |
| • | Optional stop at Angel Island to enjoy a BBQ lunch. |
---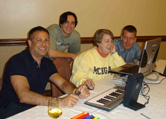 Be a DJ! Team-Building with a "Spin"


Anywhere!

Looking for a new "spin" on teambuilding? Imagine your employees enjoying a fun, interactive experience that they'll never forget--making electronic music together! As they blend rhythms and beats to create their own unique CD, participants sharpen their teamwork skills, exercise their creative muscle, and have a great time doing it.


•
Improved communication and team-building using a medium that is universal: music.
•
Active support and increased levels of trust within a "hip" entertaining environment.
•
A chance to have fun and laugh with coworkers outside of the workplace!
---
Improv Comedy Experience


Anywhere!

Take your teams to a new level with a unique approach to team-building! Whether it's a group of individuals who have never met before, or a team that shares the same cubicles every day, this event will unite and inspire the participants to interact more efficiently. Through a unique combination of exercises, drills, and activities, we'll help your group to unleash the energy that makes teamwork a success. Choose from our list of expertly-developed team-building training sessions, or, we can also custom-tailor an event so that you can work on those skills that are most important to your team(s).


| | |
| --- | --- |
| • | Learn creative problem solving, create group trust and communicate more effectively. |
| • | Low-stress environment where people can relax and learn together. |
| • | This event can be done anywhere - even in your own offices! |
---
Corporate Development Training Programs


Provided by Paragon Strategies

Paragon Strategies is a full-service training and meeting facilitation company specializing in management, team and sales effectiveness. They offer on-site programs, public seminars and a variety of services designed to maximize the talent contribution in organizations by providing the expertise, tools and guidance to help you increase productivity, effectiveness, profitability and sales. These training programs can be sucussfully combined with any of our team-building events to provide the ultimate learning experience.


| | |
| --- | --- |
| • | Numerous talent development programs to choose from. |
| • | Facilitated by experts in communication, leadership and sales. |
| • | Committed to positively impacting the way individuals and organizations work together for the benefit of both! |
---



And Much More!



Don't see what you want here? Give us a call to discuss our customized events!